There are still spots available for the simul!
Let's play against Japan Champion, CM Tran Thanh Tu!!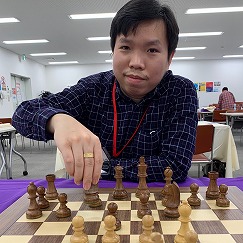 CM Tran Thanh Tu
2020 National Champion
Team Japan Online Olympiad 2020 player
Team Japan Asian Online Nations Cup 2020 player
Event Info
Dates/Venue/Time Control:
February 20th(Sat) 14:00~16:00/ Shinagawa Ward General Kumin Hall "Kyurian" (Across from JR Oimachi Station) 5th Floor.
Followed right after Chess Challenge 2 <Chess Challenge 2>
Registration
Entry fee: 2000yen, For NCS members only


Special Offer!




3000yen for participating in both Challenge 2 and the Simul!

Registration: email at registration@japanchess.org
Registration: Between Feb.6th 20:00 and Feb.17th 20:00. (Only 18 spots)
Payment Deadline: Between Feb.12th and Feb.15th 12:00.
Schedule
13:30 Registration
14:00 Simul starts
16:00 Event ends
17:00 Venue closes
Other regulations
Please email NCS if you are late or will not be able to participate.
Spectators are allowed to take photos. Please have your mobile's sound off as to not distract the players.
The organizer will provide chess equipment including clocks.
No observers are allowed without permission. Please contact NCS. You need to have the permission the day before your requested date. No permission is given on the day of the event.
All players have to agree to the above rules and the <COVID-19 Guidelines>
The organizer reserves the right for changing the above conditions in case of reasonable cases before the first round begins. And please be advised that photographs will be taken at the event for use on the japanchess.org website and in the press, and other publications. By entering this event, you consent to the National Chess Society of Japan photographing and using your image and likeness.
Link