Starting January 2021, our official club National Chess Society of Japan on chess.com will have a monthly blitz tournament every 3rd Friday.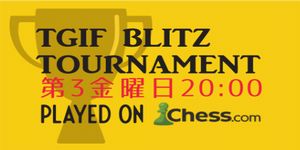 TGIF Blitz Tournament!
Starts at 20:00, 3min+2sec/move, 7 rounds
day
time
1st
1/15
20:00~
2nd
2/19
3rd
3/19
4th
4/16
5th
5/21
6th
6/18
7th
7/23*
8th
8/20
9th
9/17
10th
10/15
11th
11/19
12th
12/17
(*7/23 is the 4th Friday.)
Everyone is welcome to play. Please become a member of NCS official club on chess.com to play! We will post the top 3 players on our website. Our aim is to have many people join and have fun playing some quick easy games online!

Results of TGIF Blitz tournament