1. How to enroll
After confirming the annual subscription according to your age, please pay the annual subscription by clicking the "PayPal Subscription Registration" button below.

Then go to the "Member Portal" (which will take you to a website called MiiT+), click on the "New Member Registration" button and register your name and email address. Please register and submit the required information via the link sent to your registered email address.
After registering, your membership ID will be issued within about a week, and once you receive the "Membership Application Approval Email" from MiiT+, your membership registration will be complete.
Please check your membership ID and other information in the My Page section of the Member Portal.
2. Payment of Membership Fee
| | |
| --- | --- |
| | Annual Membership Fee |
| Adults | 5,000yen |
| Under23 years olds | 3,000yen |
| Under 19 years olds | 2,000yen |
| One-time membership | 2,000yen |
※Annual membership is valid for one year from the date of payment.
※The age is determined at the time of completion of payment.
Example: If you were born on May 23, 2000, the membership fee is 3,000 yen if you join (or renew) and complete payment of the membership fee on May 20, 2023. It is 5,000 yen if you join (or renew) and complete payment of the membership fee on May 25, 2023.
★Please pay close attention to the following points when making a payment via PayPal.
– Please make your payment in an environment with stable Internet connection.
– Please click the "Pay" button only once on the payment screen.
– Please be careful not to click the payment button more than once, as it may result in double payment.5,000 yen for Annual Membership
3,000 yen for Members under 23 years old 
2,000 yen for Members under 19 years old
Please read "4. About PayPal Payment" below for more information about PayPal payment.
3. Membership Benefits
| Benefits of Membership in the Japan Chess Federation | |
| --- | --- |
| Participation in domestic and FIDE tournaments | |
| Obtaining domestic and FIDE ratings | |
| Obtaining a FIDE ID | |
| Subscription to bimonthly Chess Magazine | |
| Establishment of an official chess club and organization of official tournaments | |
| Qualification for international tournaments | |
| Discounts on courses organized by the Federation | |
| Access to the Member Portal | new! |
| Participation in the members-only Community | new! |
4. Payment by Paypal
Paypal payment is a 3-step process that takes about 3 minutes.
If you already have a Paypal account
→Please fill in the information you have already registered. Then, follow the instructions to complete the payment.
If you do not have a Paypal account
Click the "Pay with Debit or Credit Card" button.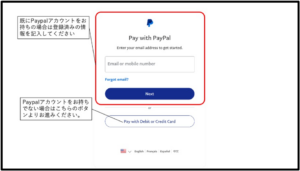 Enter the e-mail address where you would like to receive the payment e-mail.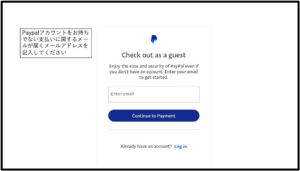 Follow the instructions to enter your bank account information or credit card information.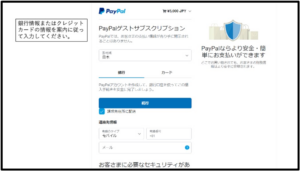 When you receive the payment completion e-mail, your payment is complete!
After the payment is made via Paypal, the annual membership fee will be automatically paid every year from now on. If you wish to stop your membership in the middle of the year, please contact your Paypal page or the Japan Chess Federation to inform us that you wish to stop the renewal.
(*1) What is PayPal?
A payment service with a history of more than 20 years, PayPal is currently widely used around the world for online shopping by more than 300 million users.
(*2) What is MiiT+?
MiiT+ is a free cloud service to facilitate membership management for a wide variety of sports organizations, associations, schools, fan clubs, etc.
Major sports organizations using MiiT+: Japan Snowboarding Association, Japan Footgolf Association, etc. (https://miitus.jp/cases/)
Operator: International Sports Marketing Inc.
A wholly owned subsidiary of United Corporation, which is listed on the Growth Market of the Tokyo Stock Exchange.