The Asian Chess Federation in cooperation with Chess.com announced that they will organize official Asian chess championships online in various categories starting with the Asian Junior Chess Championship 27 May- 3 June 2020.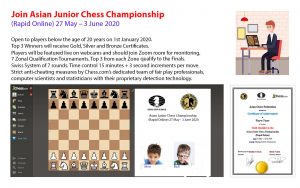 The competition format will begin with seven Zonal championships daily from 27th May to 2nd June 2020. Each federation can field up to 3 players aged under-20 to the multi-federation Zonals. The top 3 of each Zone qualify into the Finals. Both stages will be 7-round Swiss System tournaments.
"There will be strict controls with the technology of Chess.com to monitor anti-cheating," Asian Chess Federation Secretary General Hisham Al Taher said. "Asian Chess Federation will award Gold, Silver and Bronze Certificates to the winners," he added.
Games will be played on Chess.com with the time control of 15 minutes plus increment of 3 seconds per move.
Players will have to turn on their videocam and audio. They may not leave their seats during the game and videocams shall be livestreamed by Chess.com. In addition, players have to join a Zoom room for monitoring by tournament officials.
The anti-cheating measures are based on Chess.com's resources. Throughout the Asian Online Championship, Chess.com's dedicated team of fair play professionals, computer scientists and statisticians will be working in coordination with their proprietary fair play detection technology to ensure that fair results are made for each game. Information on Chess.com Fair Play and Cheat Detection Policy are here. Any player found to be in violation of Chess.com's fair play policies will be disqualified from the ACF Online events for 2 years.