Dates and Time:
May 27th, 2023 (Sat)/May 28th, 2023 (Sun)
Bashamichi Chess Tournament, held every year in the end of May, would be held this year too!
Venue: Bashamichi Park (Near JR and Yokohama Municipal Subway "Bashamichi Station")
There will be an event space around the chess board embedded in the pathway in front of Yokohama City Tower Bashamichi, 5-71 Onoe-Cho, Naka-ku, Yokohama City.
It is free for anyone to join, and there is no application needed.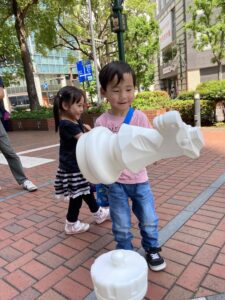 Events
Rule explanation and Playing Corner
Guests can have lectures and guidance games from our event staff. There are boards placed to use freely, so guests can play with each other.
Exhibition Games
Exhibitions such as blind chess and kids tournament will be held in the giant chess set.
Knock-out Tournament
A Knock-out Tournament will be held twice each day.
No.1 13:30~14:00 application, 14:00~15:00 Tournament
No.2 15:00~15:30 application, 15:30~16:30 Tournament
(Time schedule may change)
Blitz with black winning in case of draw. (5~10 minutes with no increment)
Application will be made in the event space.
Everybody can join, and no entrance fees!
The final game will be done in the giant chess board. Participants will be given a gift, and the winner and the runner-up will be rewarded a prize.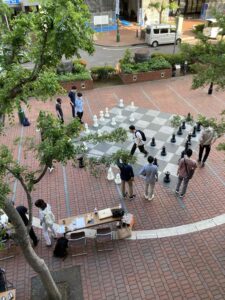 Photo-spot
The giant chess board will be opened freely as a photo-spot.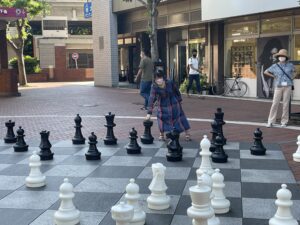 Stamp-Rally with Yokohama Chess Club
By joining both this event and the meeting of Yokohama Chess Club, you can get a prize! (There are limits to the number of participants)
There won't be a joining fee for the two days, so please join the meeting!
【Venue】 Taisei Porch
2-52, Aioi-Cho, Naka-ku, Yokohama City
Several events planned in Bashamichi will be held in Yokohama Chess Club in case it rains.
Organizer
Organizer: Bashamichi Shotengai

Co-organizer: Japan Chess Federation, Yokohama Chess Club