Probably the biggest chess event of the year in Japan! Only 34 team spots are available so register early! Gather all the chess lovers and join in this great tournament!

*Does your team need more members? We have players who would like to play but not sure how to find a team. Please email if you are looking for some members for your team!
Japan Club/Team Chess Championship 2019
Regulations
Dates/Venue: September 21-22 / Shinagawa Ward General Kumin Hall "Kyurian" (Across from JR Oimachi Station) 6F.
Time Control: 6R team swiss. 45min+30sec/move. NCS rated.
Entry fee: 16,000yen / team, 15,000yen for NCS Club members only team.
Entry Criteria: All team members must have NCS membership. (yearly or 1-time tournament membership).
Membership Fee: Adults – 6,300yen, U18 – 3,200yen, U15 – 2,200yen (1-time tournament membership fee: 2,000yen, U18 -1,000yen).
Registration: "registration@japanchess.org". Registration Deadline: September 17th (Tue) 8:00pm. Payment Deadline: September 18th (Wed) 12:00. No late registration is accepted so please be on time! The event is capped at 34 teams so register early!
In your email, please write: 1) Team name, 2) Team members full names, 3) Fixed Board Order (FBO), 4) Team captain's name and email address.
The preliminary entries are on chess-results.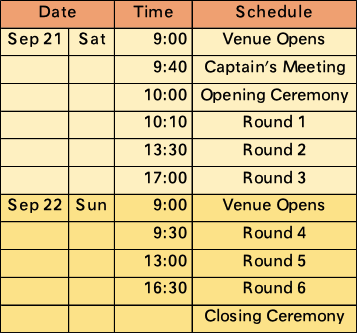 Playing Schedule: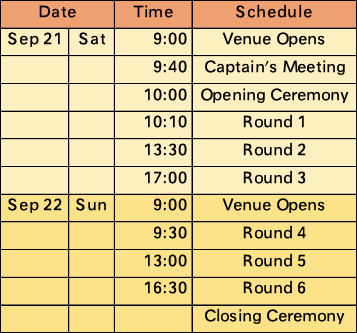 Default time is 30min. from the start of each game. If any player is not present within half an hour after the game is started, He/she shall lose the game by default. The game is not rated.
Prizes:
(1) Team prizes:
Open Category 1st: 30,000yen, 2nd: 25,000yen, 3rd: 20,000yen.
A Category 1st: 15,000yen, 2nd: 12,000yen, 3rd: 10,000yen.
(2) Board prizes for 1st player: 5,000yen each.
(3) Special prize for all elementary kids!
Tie-breaks:
Team (1) Match points (2) Points (3) Results of teams in same point group according to Match Points (4) Buchholz (5) Sonneborn-Berger (6) Draw
Board prizes (1) Performance (2) Ranking of their teams

Team Competition Rule:
A team consists of 4 or 5 players. 6-round team Swiss match. (A team captain can be a player or a non-player. If the captain is not a player, that team might consist of 5 players plus a captain)
The team order (FBO) can not be changed once submitted.
Each game gets 1 point for a win, a half-point for a draw and 0 points for a loss.
A team gets 2 match points for a win, 1 match point for a draw and 0 match points for a loss (winning a match means scoring 2.5 points or more out of 4 games, a drawn match is 2-2 and less than 2 game points will be 0 match points)
Please refrain from talking or communicating with other players or spectators during the game.
No pre-arranged draws will be permitted. If found that such arrangement had been made, the players or the teams will be penalized at the discretion of the chief arbiter.
Team Captain must refrain from interfering with players during the games. He/she shall not stand across from the players where eye contact could be made with his/her players.
The captain, however, is entitled to advise his/her players on the offering or accepting of draws or resigning of games only. The exchange of information between the captain and the player must take place in the presence of an arbiter.
After each round, captains should check the results of his/her team and report any errors to the chief arbiter. To avoid confusion, only captain can talk to arbiters.
Each captain must submit the next round's Round Team List (RTL) to the chief arbiter 15min before the next round. If no RTL is submitted, the Fixed Board Order (FBO) will be used for the next round for the team. If the team pairings are not up 20min before the next round, the next round might be delayed but the captains are asked to be in the playing room ready to have the RTL ready as soon as the team pairings are up. 
For the first round, team pairings will be announced on the 19th. We will email the pairings to team captains. Please reply with the 1st round board order by 8:00pm on the 20th. If you do not reply, FBO will be used for R1
Pre-registered byes: 0.5 point bye requests will be accepted before round 1 begins. The players will not receive 0.5 points for the last 2 rounds. If a player has more than 1 pre-requested byes, the player will not qualify for prizes. Pairing-allocated bye will be 1 point.
Players must record all the moves
All electronic devices have to be turned off and stored away. not to be touched or carried out of the playing room during the game. If a player is found with a mobile device during his/her game, the player loses the game.
Spectators are allowed to take photos for the first 10 min. of each game, including the use of a mobile but after 10minutes, all mobiles have to be put away and not to be used in the playing room.
This is a NCS rated tournament. The pairings will be done according to the NCS rating. If there are 2 players with the same rating, the alphabetical order of the players will be used.
The tournament will follow FIDE rules unless otherwise stated above.
(1st illegal move – 2 extra minutes are given to the opponent. 2nd illegal move – loss of the game. Etc.)
The organizer will provide chess equipment including clocks and these should be used at the tournament.
The organizer reserves the right for changing the above conditions in case of reasonable cases before the first round begins. And please be advised that photographs will be taken at the event for use on the japanchess.org website and in the press, and other publications. By entering this event, you consent to the National Chess Society of Japan photographing and using your image and likeness.
Parings and results will be on chess-results.com
Organized by: