Christmas
Chess
Party
!!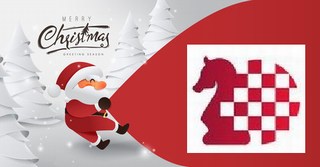 'tis the season! Let's play some chess and celebrate Christmas!!
<Japanese page>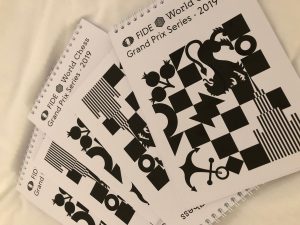 Christmas Chess Party 2019 Regulations
Dates/Venue: December 14 / Shinagawa Ward General Kumin Hall "Kyurian" (Across from JR Oimachi Station) 5th Floor.

Time Control: 4R swiss. 45min+10sec/move, (NCS rated).

Entry fee: 3000yen, U23 – 2000yen.

Entry Criteria: NCS members (yearly or 1-time tournament members).

Membership Fee: Adults – 6300yen, U18 – 3200yen, U15 – 2200yen (1-time tournament membership fee: 2000yen, U18 -1000yen).

Registration: "registration@japanchess.org"
Registration Deadline: December 10 8:00pm.
Payment Deadline: December 11 12:00pm.

Prizes: Prizes for top 3 players of each category.
Category: Open > U1600 > U16years old.
Tie-breaks will be used to determine winners. No two players will share the prize. A winner of higher category is excluded from his/her category.

Tie-breaks: 1.Direct encounter, 2. Buchholz, 3. Sonneborn-Berger, 4. Drawing lots.

Playing Schedule:
9:40 Registration and Pairings!
10:00 Round 1
12:30 Round 2
14:40 Round 3
16:50 Round 4
(Please read Christmas 2019)

Default time is 30min. from the start of each game. For the first round, please be there by 9:40 to be paired! If we don't see you, we won't pair you, unless you have contacted us beforehand!
If any player is not present within half an hour after the game started, he/she shall lose the game by default. The game is not rated.

Pre-registered byes: 0.5 point bye requests will be accepted before round 1 begins. 0 points are given for the last round. If a player has pre-requested byes, the player will not qualify for prizes. Pairing-allocated bye will be 1 point.

Players are required to record moves unless there is less than 5min left on the clock. When the game is finished, check the results, and report the result with score-sheets to the arbiter.

All electronic devices have to be turned off and stored away. Not to be touched or carried out of the playing room during the game. If a player is found with a mobile device during his/her game, the player loses the game.

Spectators are allowed to take photos for the first 10 min. of each game, including the use of a mobile but after 10minutes, all mobiles have to be put away by the spectators and they are not allowed to use them in the playing room.

This is a NCS rated tournament. The pairings will be done according to the NCS rating and the alphabetical order of the players will be used.

The tournament will follow FIDE rules unless otherwise stated above.
(1st illegal move – 2 extra minutes are given to the opponent. 2nd illegal move – loss of the game. Etc.)
The organizer will provide chess equipment including clocks.
The organizer reserves the right for changing the above conditions in case of reasonable cases before the first round begins. And please be advised that photographs will be taken at the event for use on the japanchess.org website and in the press, and other publications. By entering this event, you consent to the National Chess Society of Japan photographing and using your image and likeness.
Parings and results will be on chess-results.com.